Welcome To Total Financial Solutions, Inc.
At Total Financial Solutions, Inc. we want to help you budget your money, get out of debt, and save for retirement. We want to build an integrated financial overview for you and your family that is specific to your goals and aspirations. Whether we are working with your entire financial portfolio or one aspect of it, we are committed to treating every client with the same importance.
Save Money
Today we live in a world with a "buy now and pay later" mindset. Unfortunately for some people, they're not in the financial position they thought they would be in when later does come. This means what you have bought now can take several more months or years to pay off due to the accumulated interest. Total Financial Solutions can help solve this connundrum.
Get out of Debt
Is debt good or bad? It depends. Debt in and of itself is not inherently bad. Debt is a tool; how it is used and the purpose for which it is acquired determines whether it is good or bad. When used properly debt can provide a multitude of opportunities; if used unwisely, it can be overwhelming. Total Financial Solutions can teach you about good and bad debt and help you with your debt decisions.
Plan for Retirement
Whether your retirement is years away or quickly approaching, the sooner you start saving for retirement, the sooner you will be able to reach or exceed your retirement goals. However, the longer you wait, the more limited your choices become. Regardless of your current stage in life, now is the perfect time to start planning for retirement and we can help.
---
We believe in the GREEN line.
Take a look at the chart below and ask yourself,
"Where would I rather have my money?"
We think that most people would say,
"I want my money in the GREEN line!"
(800) 990-7344
(661) 753-9683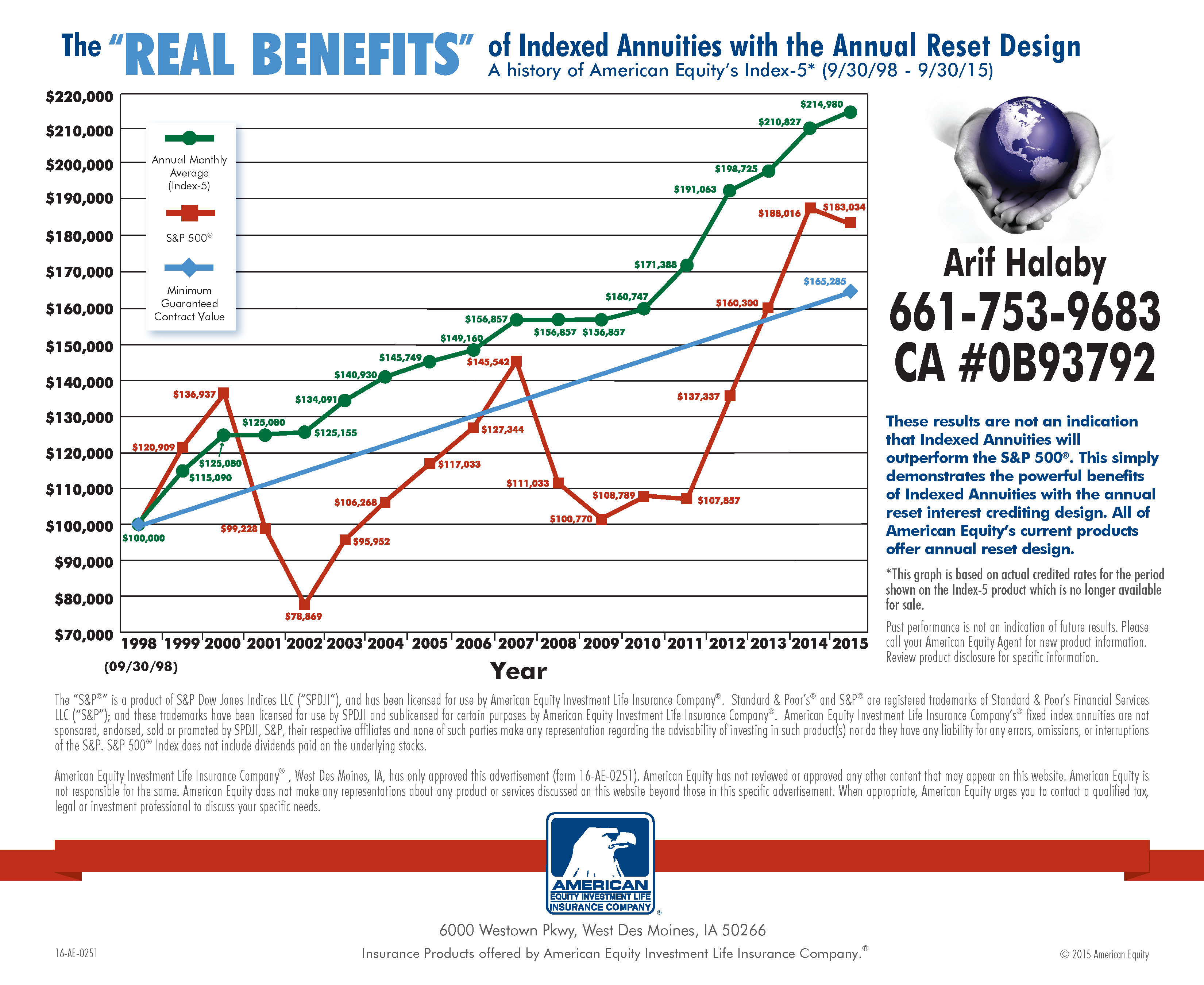 American Equity Investment Life Insurance Company, West Des Moines, IA, has only approved this advertisement (Form 0251). American Equity has not reviewed or approved any other content that may appear on this website or any content of any other website to which this website may attach or link. American Equity is not responsible for the same. American Equity does not make any representations about any product or services discussed on this website beyond those in this specific advertisement. When appropriate, American Equity urges you to contact a qualified tax, legal or investment professional to discuss your specific needs. This form is copyrighted by American Equity.
---
(800) 990-7344
(661) 753-9683
---
FEATURED ARTICLES
---
Listen to Arif M. Halaby on:
Tuesdays 12-1pm
---
Keep Updated about
new Frauds & Scams
Details Here
---
Need Bankruptcy Answers?
Dave Lozano
Bankruptcy Attorney
Click Here
---
Workshop
Strategies to feel good about preparing for retirement

Strategies that can help rebuild your financial needs

Strategies in challenging times

Strategies to help achieve financial goals

Strategies to help achieve your long-term financial goals

Alternative products in challenging times

Feel good about your retirement strategies

Feel confident about your retirement savings strategies

How you can get income that you won't outlive*

Information about IRA's and tax deferral characteristics **

Things to think about that may be more appropriate for your financial needs

How our clients have kept their money safe from market declines

Options that let you avoid taxes on IRA distributions**

Products that keep your principal safe from market declines*
*Guarantees are backed by the financial strength and claims paying ability of the issuing insurance company.
** We do not provide specific legal or tax advice, nor promote, market or recommend any tax plan or arrangement. Consult a tax/legal professional for guidance with your individual situation
If just one of these items are a concern you need to call us NOW at
(800) 990-7344 Or (661) 753-9683.